Back to Cast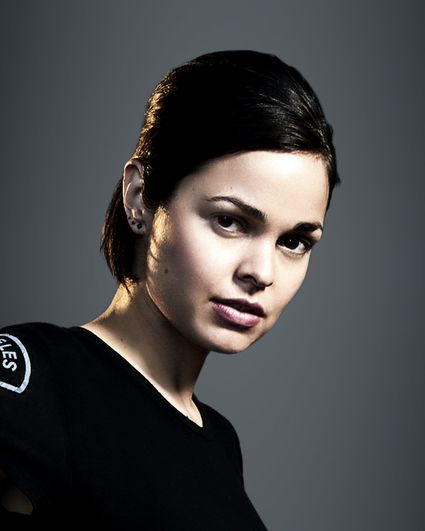 Christina "Chris" Alonso
Lina Esco
Biography
Lina Esco is an actress, filmmaker and activist. She began her acting career with a role in the 2005 independent feature film "London," opposite Chris Evans, Jason Statham and Jessica Biel. Her additional film credits include the coming-of-age feature "LOL," opposite Miley Cyrus and Demi Moore; "Kingshighway," alongside Clayne Crawford; "Where the Road Meets the Sun" with Eric Mabius; and "Low Fidelity," directed by Devon Gummersall. She can next be seen in Saman Kesh's 2018 release "Doors."
Eso's first starring role on television was as Jimmy Smits' daughter in the drama series "Cane," on the Network. Additionally, she starred in the series "Kingdom" with Frank Grillo and Jonathan Tucker and "Flaked," opposite Will Arnett. Her guest roles for television include "Drop Dead Diva" as well as "CSI: Crime Scene Investigation" and "CSI: NY," on the Network. Also, she appeared in "Heroes: Destiny," a 2008 companion web series to the hit sci-fi series "Heroes." In 2016 Esco starred in the 30-minute Tove Lo music video/short film "Fairy Dust," as the performer's alter ego. The video has received over 3 million views on YouTube to date.
In addition to her acting career, Esco is a rising film producer and director. In 2009, after becoming aware of Japan's dolphin-hunting industry, she partnered with actor/producer Fisher Stevens and former dolphin trainer/activist Ric O'Barry to campaign for their documentary "The Cove." The film, which won the 2010 Academy Award for Best Documentary Feature, provided an in-depth look at the annual slaughter of thousands of dolphins in the region.
Esco produced and directed two PSAs for the film "The Cove" that analyzed and questioned dolphin hunting practices in Japan. The first was a celebrity call to action with appearances by Robin Williams, Jennifer Aniston, Naomi Watts, James Gandolfini, Woody Harrelson, Paul Rudd and Hayden Panetierre. The second, titled "My Friend Is…," featured children asking for an end to dolphin captivity in sea parks.
Esco is the creator of Free the Nipple, a global movement to bring women and men together to effect gender equality. After raising one million dollars in 2012 to shoot her first feature film of the same name, Esco created the Free the Nipple campaign when the film's title left her unable to secure distribution. She considers the nipple a Trojan horse to start a real dialogue on equality. The campaign went on to become a worldwide cultural phenomenon.
To date, the movement has over 2.5 billion impressions, has achieved over 800 million in true reach and has around four million tags for #freethenipple. Esco and Free the Nipple have been featured in Time, Variety, Los Angeles Times, The New York Times, The Hollywood Reporter, Entertainment Weekly, Vogue, Huffington Post and CNN. The campaign's success led to Esco's sale of the film to IFC/Sundance Selects for theatrical distribution in 2014, and it was acquired by Netflix in 2015.
Esco developed her commitment to activism and philanthropy during childhood. After reading the 2005 novel End of Poverty: Economic Possibilities for Our Time by economist Jeffrey Sachs, she was inspired to create Crossing Borders, her own non-profit organization. In 2014 Esco helped her former co-star Miley Cyrus create the Happy Hippy Foundation, dedicated to helping homeless transgender youth. This year, Esco launched The Human Campaign (thehumancampaign.org), a 24-month long nationwide campaign to get The Equal Rights Amendment added in the United States Constitution.
Esco is of Hispanic heritage and was born and raised in Miami, Fla. She left home at 15 to pursue her acting dream. Her birthday is May 14. Follow her on Twitter @dolphinesco and on Instagram @dolphindylan.